Katie Koestner was the first victim of "date rape", now termed "known-offender rape" to appear on the cover of a national news magazine, TIME, on June 3rd, 1991. Additionally, Katie has been the subject of over 500 articles in newspapers and magazines. She has been interviewed for books on women's history, sexual misconduct, campus safety, gender issues, parenting and personal safety. Here are a few highlights.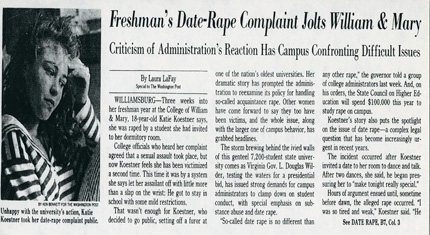 LaFay, Laura. "Student's date rape complaint jolts William and Mary." The Washington Post. 7 Apr. 1991.
Olen, Helaine and Ostrow, Ronald J. "Date-Rape Gains Attention After Years as Taboo Topic." Los Angeles Times. 23 Apr. 1991.
TIME Magazine. Cover photograph and cover story, June 3, 1991.
Masters, Brooke A.. "Alleged Date Rape is College's Topic A." The Washington Post. 27 Apr. 1992.
Susens, Steven. "Activist recounts date-rape trauma with UT students." The Daily Beacon. 16 Oct. 1992. 1.3. Print.
Bailis, Karen. "Sexual assault awareness promoted." Daily Local News. 22 Apr. 1992. Print
Mangan, Jennifer. "Strong Stuff." Chicago Tribune. 13 Jan. 1993.
Wiley, Lauren. "Women use experiences to empower." Daily Orange. 26 Mar. 1993. 1. 4. Print.
Kim, Heidi. "Lecture Closes Sexual Violence Awareness Week." The Colgate Maroon-News. 10 Feb. 1995. 1. Print.
Sutich, Jessica. "Taking back the Night." Campus Times. 30 Mar. 1995. 8. Print.
Holland, Elizabeth. "There's No Verdict Yet On Campus Crime." The New York Times. 7 Jan. 1996.
Baker, Donald P. "Talk on Sexual Violence Stirs Campus." The Washington Post. 20 Apr. 1996.
Canner, Amy. "Rape victim shares experience." Indiana Statesman. 2 Oct. 1996. Print.
Kroetcsh, Nicole and Brouillard, Sarah. "Koestner shares story of rape and life with packed auditorium." The Record. 17 Apr. 1997. 1. 11. Print.
Young, Kelly E. "Rape victim tells story of sexual assault." Stanford Daily. 13 May. 1997. 1.8. Print.
Saulsgiver, Katheryn. "Speaker shares rape story." The Independent Alligator. 14 Jan. 1998. 18. Print.
Morris, Abby. "Nationally known advocate, Katie Koestner, to speak about sexual assault on campuses." East Tennessean. 21 Feb. 2000. 1. Print.
Anon. "Fifteen Minutes: An Unsilenced Voice: Katie Koestner on Rape, Reaction and Change." The Harvard Crimson. 27 Apr. 2000.
Schaefer, Mari. "One who knows tackles date rape." The Philadelphia Inquirer. 10 Dec. 2013. B5. Print.
MORE Magazine, "The Legacy of Campus Rape and Five Survivors Tell Their Stories," Essay by Jennifer Baumgardner and Narratives by Virginia Sole-Smith. February 2015 Issue.
BBC Magazine. "How I convinced the world you can be raped by your date" June 2, 2016.